Lucky 6 Slot Review: An Irish Adventure of Fortunes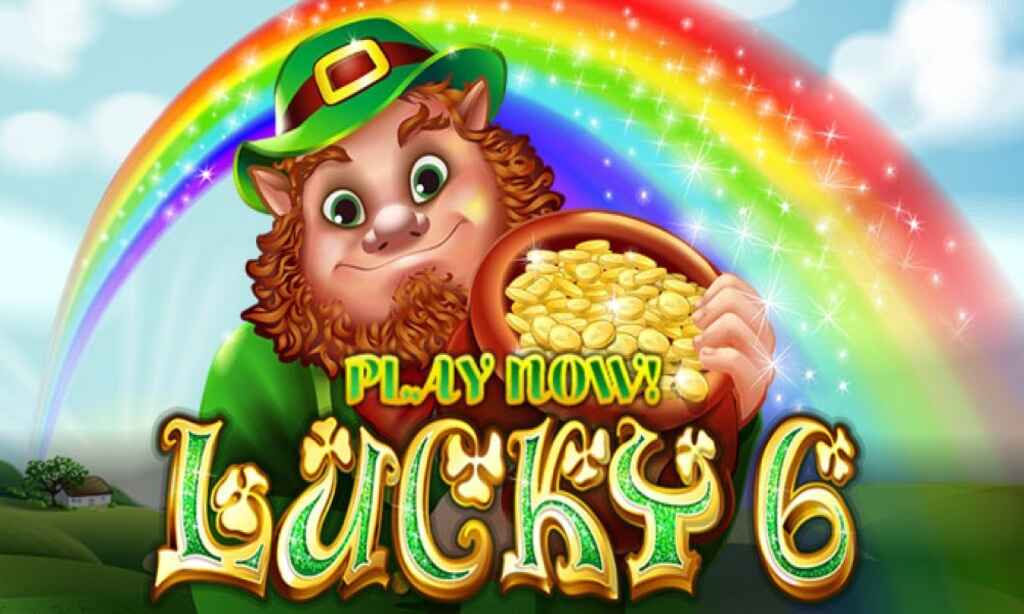 Venturing into the enchanting world of online slots, we stumble upon the delightfully engaging Lucky 6 Slot. Developed by the industry veteran, Realtime Gaming (RTG), this slot game encapsulates the luck of the Irish in a gaming format, offering players an experience like no other. Let's delve deeper into what makes this slot machine tick.
Understanding Lucky 6 Slots
Before diving headfirst into the gaming experience, it's crucial to have a fundamental grasp of what the Lucky 6 Slot encompasses. Released in 2015 by RTG, this online slot has seen its fair share of spins and wins. Its theme is set around the ever-popular luck of the Irish, embodying the essence of folklore and myths. It offers a unique layout of 6-reels and 10 paylines and. A random progressive jackpot that can be won on a spin.
Key Features
🎲 Six Reels & Ten Paylines: a unique game layout, offering six reels and ten paylines, ensuring a myriad of ways to win.

🔠 Scatter Symbols: they are letter L,U,C,K,Y and number 6

🌈 Rainbow Symbol: is the wild that can substitute for all other symbols except the scatter, and it doubles the prize. Also appears stacked on reels 2,3,4 and 5.

🎰 Progressive Jackpot: This slot gives players the chance to land a completely random progressive jackpot, adding a layer of anticipation to every spin.

💵 Betting Range: Suitable for both beginners and seasoned gamblers, you can start betting as low as $0.01 and go up to $0.50.

📈 RTP: 95%
Theme Graphics and Design
One of the game's strong suits is its alluring graphics and design. Every spin is accompanied by high-quality sound effects, immersing players into the heart of Ireland. From vibrant rainbows to mischievous leprechauns, the theme genuinely feels alive. The graphics are a mix of 2D and 3D animations, with some symbols having special effects when they are part of a winning combination. The background shows a lush green field with a rainbow and a leprechaun's hut. The symbols include four-leaf clovers, horseshoes, magic rings, rabbit's feet, leprechauns, shoes, wells, mushrooms and rainbows.
Gameplay
At its core, the gameplay revolves around the classic slot mechanism but enhanced with modern features. The Wild symbol acts as a wildcard, substituting for all other symbols (except the Scatter) to form winning combinations.
Bonus Features
What sets the game apart from other slots is its enticing bonus features. The main bonus feature is the free spins feature which can be activated by landing at least four or more scatter symbols.
Here's a glimpse:
LUCKY on reels 1 to 5 awards 8 free spins with double prizes
LUCKY on reels 1 to 6 awards 12 free spins with double prizes and extra grouped wilds on reels 3 and 412.
LUCKY on reels 2 to 6 awards 8 free spins with double prizes and Pot of Gold added to reels 2, 3, 4, and 513.
LUCKY on reels 2 to 6 awards 12 free spins with double prizes, extra grouped wilds on reels 3 and 4, and Pot of Gold added to reels 2, 3, 4, and 513.
How to Play
To play, follow these steps:
Choose your bet amount by clicking on the up or down arrows next to the Bet button.
Click on the Spin button to start the game.
Alternatively, click on the Autoplay button to set a number of automatic spins.
Check the pay table for more information about the symbols and features.
Enjoy the game and hope for some lucky wins.
Strategies for Winning
While the game is mainly a game of chance, there are some strategies that can improve your gaming experience:
Set Spending Limits: Pre-determine a budget to ensure responsible gambling.
Start Small: Play at the lowest denomination initially to gauge the game's volatility.
Trigger Free Spins feature: watch out for scatters they can give you free spins.
Take advantage of progressive jackpots: can be won randomly on any spin, regardless of the amount you bet.
Where to Play Lucky 6 Slots
Lucky 6 is available on multiple platforms, with top casinos such as Silver Oak Casino and Red Dog Casino offering an unparalleled gaming experience.
Established: 2019

Up to $8,000 Welcome Bonus

18+. T&C's apply.
History and Development
Lucky 6 was launched by Realtime Gaming in 2015, as one of their first 6-reel slot games. It was well received by players and critics, who praised its theme, graphics, features, and jackpot. Since then, the game has undergone tweaks and improvements, addressing feedback and enhancing gameplay. Its rich history is a testament to RTG's commitment to delivering top-tier entertainment.
Our Verdict
Lucky 6 is a fun and rewarding slot game that offers a lot of features and a chance to win a progressive jackpot. It has a charming theme, a unique layout, and a catchy soundtrack. It is suitable for all kinds of players, especially those who love Irish-themed slots and lucky charms. However, it is also important to be careful and responsible when playing online casino games, and to check the legality and safety of any online casino before signing up or depositing any funds.
FAQs
What is the main theme of the Lucky 6 Slot?
The slot revolves around the luck of the Irish.
How can one trigger the Free Spins feature?
By landing three or more Scatter symbols.
Is there a progressive jackpot in the Lucky 6 Slot?
Yes, there's a random progressive jackpot available.
What's the betting range for Lucky 6?
You can bet from as low as $0.01 to a maximum of $0.50.
Who developed the Lucky 6 Slot?
The game was developed by Realtime Gaming (RTG).
---
Affiliate Disclosure: At allredcasinos.com, we help players find the best casino offers. Some links to suggested sites help support our website.
---